HGV, LGV Lighting & Lamps
The Road Vehicles Lighting Regulations 1989 govern this section. They are a complex set of regulations with many of the regulations only applying to vehicle manufacturers or bodybuilders.  
Between sunset and sunrise all vehicles in motion on a road, except a motor bicycle or pedal cycle being pushed, must ensure that every lamp required to be fitted to the vehicle in question is lit and unobscured, and includes:
Front lamp

s

 

Rear position lamp

s

 

Rear registration plate lamp

 

Side marker lamp

s

 and,

 

End outline marker lamp

s

 
During the hours of darkness (half an hour after sunset to half an hour before sunrise) a vehicle fitted with obligatory dipped-beam headlamps and used on the road, except on a restricted road where the street lamps are not more than 200 yards apart or when the vehicle is parked, must keep every such lamp lit. Front and rear position lamps and dipped beam headlamps must also be kept lit in seriously reduced visibility. Seriously reduced visibility is generally considered as being less than 100 metres. 
In addition to front and rear position lamps, headlamps, rear registration plate lamps and two red rear reflectors, most vehicles must be fitted with red stop lamps, appropriate direction indicators and, on vehicles first used from 1 April 1980, at least one rear fog lamp. Larger goods vehicles may also require side facing reflectors and rear reflective marker plates.

Please find a copy of the Highway Code of Vehicle Markings
The check to ensure that all of this is in order before the first use of a vehicle and/or trailer is called a daily walk around check and can be carried out using a defect reporting form (which must be retained), or the use of a mobile app on a mobile phone or tablet.  
In the case of using a mobile phone or tablet, the resulting check is uploaded to a cloud-based platform where it is retained. These document or app records are legal documents and can be used in defence or to prosecute in a court of law or public inquiry. 
Front position lamps must be white (or yellow if incorporated in a yellow headlamp). It is illegal to show a red light to the front. Rear lights must be red but other permitted rear lights such as reversing lights, number plates, warning beacons, rear reflective markers and working lights on recovery vehicles may be different colours. 
Vehicle lights must be maintained in working order by day as well as by night unless they are painted or masked so that they cannot readily be used, or the bulb is not wired, or they are fitted to specified types of vehicles solely for site operation. However, allowance is made for daytime journeys if the lamp or reflector became defective during that journey and if arrangements had been made to remedy a previous failure. 
Except for reversing lamps, hazard warning signals and warning beacons, lights must not cause undue dazzle or discomfort to other drivers or persons using the road. This is particularly important for headlamps and front and rear fog lamps. 
Parking at Night 
It should also be noted that unlit vehicles are not permitted to park under certain prevailing conditions, not least in close proximity to a road junction - (Regulation 24(3)) - (see diagram).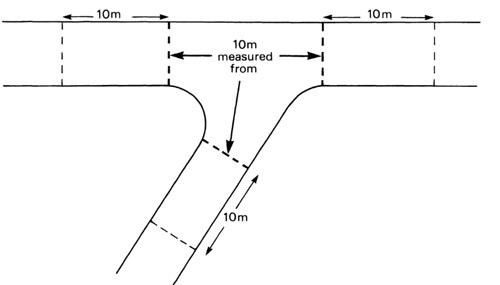 The following link provides guidance and further information
The Road Vehicles Lighting Regulations 1989  
https://www.legislation.gov.uk/uksi/1989/1796/part/I/made