Port of Dover - Gateway to Europe
The Port of Dover is sometimes referred to as the Gateway to Europe. Processing up to 10,000 Freight vehicles and 200+ coaches on a busy day, the port is a bubbling 'hive' of activity and is a community in its own right. Keeping the wheels in motion and maintaining the highest safety standards is a huge task and one that is a credit to the staff and agencies employed within the port. 
| | |
| --- | --- |
| For those operators and drivers who are considering venturing into Europe and using the port for the first time, these pages are an aid to assist in a problem-free experience.  | |
Export Freight Clearance  
If a load requires customs export clearance, drivers should not enter Eastern Docks but proceed directly to Dover Western docks Freight Clearance Facility before travelling, which is clearly signposted. For further information concerning the Freight Clearance Services and facilities, visit the Clearance page in this section. 
Leaving the UK 
Upon entering the port, safety is paramount. Drivers must drive safely and carefully at all times and obey all road traffic laws as they apply in the Ferry Terminal (Eastern Docks) and Freight Clearance Facility (Western Docks) as well as on the road used to enter the port.  
The speed limit within the port is 20 mph unless otherwise stated. 
Drivers should protect themselves and wear high visibility clothing when out of the cab, park only in authorised bays and not obstruct pedestrian walkways. When walking, use the black and white pedestrian walkways provided. 
Hot work, welding or gas cutting is not allowed without a permit. Permits for authorised operators can be obtained from the Freight Services Agency. 'Naked flames' and 'cooking' are not permitted in the Ferry Terminal (Eastern Docks) or Freight Clearance Facility (Western Docks). 
Security and Frontier Controls
 All persons and vehicles entering the Restricted Area are subject to security checks. Security systems and measures are in place throughout the port, including entry security checks. 
Drivers may also be asked to show their passport to an officer of the French Police aux Frontières to validate permission to enter France. After that, a driver could be checked by an officer from one of the UK's agencies, such as HM Revenue & Customs or Special Branch. All drivers must comply with any instructions given. 
When entering the Ferry Terminal (Eastern Docks), drivers should follow the signs for check-in. They may be asked to stop for a check on the way to the ferry. If selected for a check, co-operation and assistance will be appreciated in order that it can be completed with a minimum delay to the journey. 
The route continues to the port weighbridges where vehicles  must be weighed before shipment under Maritime Regulations. Any weighbridge may be used. All are 'self-service' and display instructions on how to use them. After receiving the weight ticket, the vehicle must be driven to the chosen ferry operator's check-in. The ferry operator will take the weight ticket, proceed with check-in and advise which assembly lane (1 to 237) to head for.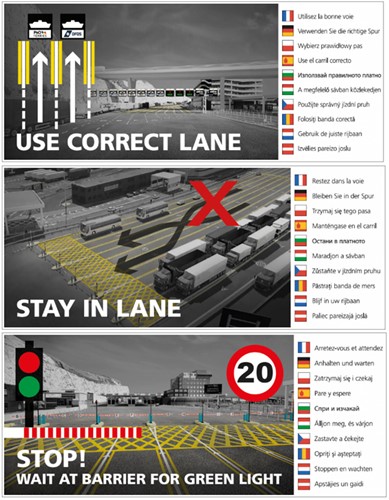 HAZARDOUS GOODS & ABNORMAL LOADS 
Hazardous Goods
The Dangerous Substances in Harbour Area Regulations 1987 require notification of carrying hazardous goods before taking them into the Ferry Terminal (Eastern Docks) or Freight Clearance Facility (Western Docks). At the Port of Dover, details of hazardous goods should be notified to Terminal Control by fax. The number is: +44 (0) 1304 215793. 
All hazardous goods must also be declared to the ferry operator. 
Vehicles carrying hazardous goods must be correctly labelled and drivers must have appropriate documentation. 
Abnormal Loads 
If any of the following criteria are exceeded the vehicle will be classified as an Abnormal Load and approval will be required before the vehicle can pass through the Port of Dover; 
Vehicle weight exceeds 45 tonnes

 

Vehicle width exceeds 3.2 metres

 

Vehicle length exceeds 22 metres

 

Vehicle height exceeds 4.8 metres

 
To submit an Abnormal Load Notification, the link below will redirect to the relevant website. Google Chrome will need to be used as the browser. 
For further information, visit the link below
http://www.doverport.co.uk/ferry/abnormal-load-notification/ 
Where an abnormal load arrives at the port without a suitable escort/approval for its immediate onward travel, the following charges will be payable in respect of the time that the abnormal load is held in the port pending arrival of the escort/approval. 
| | |
| --- | --- |
|  0 - 24 hours  |  £100.00  |
|  24 - 48 hours  |  £200.00  |
|  48 - 72 hours  |  £300.00  |
|  Subsequent charge, per day  |  £100.00  |
Current Ferry Operator e-mail addresses: 
Unaccompanied Trailers  
Unaccompanied trailer park facilities (UTP) are available in the Eastern Docks. 
Trailers which are collected within a 24 hour period are exempt from charges. Trailers that exceed the first 24 hour period will be charged for the entire duration of their stay, calculated from the time and date of arrival. 
Regular visitors to the port may apply for a permanent pass (photo identification required). Application forms can be obtained from the Port Reception in the Passenger Terminal located at Dover Ferry Terminal (Eastern Docks). 
Temporary single visit passes can be obtained from West Gate on the production of a passport, European ID card or photo driving licence. 
Drivers should follow the freight vehicle route into the terminal, then the signs to  Dover Cargo Terminal. 
After passing through East Gate security, drivers must use their Dock Pass to enter the UTP and Container Terminal. 
After leaving the UTP follow the Exit/Sortie signs to leave the Ferry Terminal. 
Freight driver services 
Based in the Port of Dover and open 24 hours a day, Motis Freight Clearance and Truck Stop Facility are the largest of their kind in the UK. With over 300 wide and secure parking spaces a driver can take their legal rest break in total comfort and security. Aside from purpose-built facilities for the truck, including ANPR, CCTV and security patrols, there are other first-class facilities for the drivers including:
wet room showers

 

toilets

 

a launderette

 

Motis Café/Bar

 

food & drink vending machines

 

gaming machines

 

convenience stores

 

a cinema & TV Lounge

 

Sky & BT Sports

 

free Wi-Fi

 

Motis Shop for groceries, etc.

 

low cost 'phone home' mobiles

 
Payment can be made over the counter (cash or card, not fuel card). Account facilities are available for Motis clients (A contact email needs to be provided). 
The following links provide guidance and further information: 
Dover Port - http://www.doverport.co.uk/ 
Motis Truck Stop & Freight Clearance - https://www.motis.com/dover-fsa