Eurotunnel Freight
Eurotunnel Le Shuttle Freight is probably the most convenient and cost-effective way to transport freight between the UK and continental Europe. Eurotunnel operates 24 hours a day, 365 days a year and has a 'Rapid Check-in' and a smooth transfer via the motorways which makes it the fastest choice when it comes to freight transportation. 
Advantages 
Many logistics operators use Eurotunnel Freight and many supply chains depend on Eurotunnel for its speed, efficiency and rapid access to continental Europe.  
Crossing the Channel by train is fast, just 35 minutes from country to country at 140 km/hour!  
Each step of the journey is designed to maximise the utilisation of vehicles with minimum stoppage time. There is no need to book a specific departure time, as you can simply turn up and board! 


 
Terminals are easily accessible, located directly on the main routes between London and the continent, the M20 at Folkestone and the A16 and A26 motorways at Calais. 

The hourly capacity ensures traffic fluidity and the fastest possible transit time. Our Eurotunnel freight service is available 24/7 and 365 days a year with up to 1 shuttle departure every 10 minutes at peak times 

Freight Support 
Currently, the Eurotunnel fleet consists of 17 Truck Shuttles which are 745m long, with each shuttle capable of carrying up to 32 trucks and travelling at a speed of 140km/h.  
A complete Truck Shuttle comprises two locomotives, a Club Car with approximately 56 seats for drivers, 3 loading/unloading wagons and 32 carrier wagons. 
Eurotunnel Le Shuttle freight customers have dedicated access to both terminals, totally separate from the passenger flow, in addition to their own fast automatic Check-in. 
In Folkestone, the Freight Drivers Centre offers 24/7 service information and advice on travelling with dangerous goods. 

In Coquelles, a cafeteria offers hot meals and snacks so that drivers can enjoy a quick break before continuing their journey to the UK. A fuel station, a shop and washroom facilities (including showers) are also available before check-in. 
Safety & Security 
Safety and security is Eurotunnel's top priority. It is therefore essential that the following safety rules are respected at all times when driving on the Eurotunnel terminals and boarding Freight shuttles: - 
All passengers must be declared at check-in, no charges are incurred for additional passengers. Failure to declare all passengers is a breach of conditions and non declaration may cause travel to be refused by Channel Tunnel security.

 

For safety and security reasons, drivers and/or passengers with reduced mobility cannot be accommodated on Eurotunnel Truck shuttles.

 

Smoking is not is permitted

 

The speed limit is 6 mph/10 km/h when driving on the Freight shuttle.

 

Cab curtains must be kept open at all times.

 

The maximum height authorised for vehicles in Freight Shuttles is 4.20m. All aerials must be

lowered and secured before boarding (

download the flyer

).

 

Tarpaulins must always be correctly attached to the trailer and in good condition.

 

All electrical equipment in the cab must be turned off after loading, including the cab heater and refrigerator.

 

Drivers must not stay in the vehicle. 

Ensure the fuel cap is on.

 

Only children aged 12 years and over are authorised to travel on Freight shuttles (

download the flyer

).

 

No livestock, animals or domestic pets are accepted for carriage on the Freight shuttles (

download the flyer

).

 

All-access points into the tankers must be fully secured (

watch the a

n

imation

).

 

Channel Tunnel security checks will be carried out to ensure these rules are adhered to. 
Please also download Eurotunnel's Safety Information leaflet at the link below. 
Vehicle Dimensions 
To ensure that a vehicle can travel on Eurotunnel truck shuttles, please find below the maximum size and weight of vehicles that may be carried.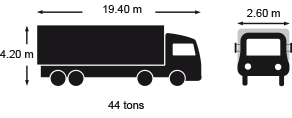 Please note that for safety reasons, camper-vans are not authorised to travel on truck shuttles. 
Flammable Gas Tank 
Vehicles can be powered by different types of flammable gas, for example:
LNG – liquefied natural gas (methane)

 

CNG – compressed natural gas (methane)

 

LPG – liquefied petroleum gas

 
Flammable gas-powered vehicles (i.e. vehicles fitted with flammable gas tanks as an alternative fuel) and dual powered vehicles (i.e. flammable gas and other fuels) cannot be accepted for transport by Eurotunnel Le Shuttle, even where:
the flammable gas tank is empty,

 

the flammable gas mode of the vehicle is not selected

 
Dangerous Goods  
The Channel Tunnel has been designed to be one of the safest transport systems. When it comes to dangerous goods transportation, a wide variety of goods classified as 'dangerous' can be carried with Eurotunnel Le Shuttle Freight, subject to strict regulations. 
Eurotunnel account holders can download Eurotunnel's dangerous goods policy by using their online access, which provides all the necessary information about the transport of dangerous goods.  
Account holders can also access useful information via online guides to ensure that any dangerous goods regulations are adhered to before travel. Non account holders may obtain information on transporting dangerous goods with Eurotunnel Le Shuttle Freight or order an electronic copy of the practical guide, by contacting the team at Freight Commercial Department. 
Vehicles can carry dangerous goods in accordance with Eurotunnel's policy at no extra cost. 
In order to save time, account holders may declare their dangerous goods in advance by logging into their online account. 
What to do on arrival 
All dangerous goods must be declared and accompanied by paperwork unless transported in Limited Quantities. The process is fast and efficient, so to avoid any unnecessary delays with dangerous goods transport, it is essential that all paperwork is legible and always includes the following information: - 
UN number

 

Current ADR references (Class, Packing Group & Classification Code, if required)

 

Proper Shipping Name of goods carried (including their volume or weight)

 

Details of packaging (number and description)

 

Quantity (net / gross mass as appropriate)

 
Prior to the vehicle's arrival, customers must ensure that their driver has the full dangerous goods declaration. 
At the Freight Driver Centres
Drivers will be issued a "DG" sticker and it is important that the sticker is displayed in the vehicles' windscreens at all times as they are positioned on the freight shuttles accordingly.  Failure to do so will result in delays as all vehicles will need to be exited from the shuttle and re-positioned. 
Please also download Eurotunnel's Dangerous Goods Information leaflet at the link below. 
Further Reading 
The following link provides guidance and further information:
UK Border Agency
http://www.ind.homeoffice.gov.uk
Highways Agency
https://www.gov.uk/government/organisations/highways-england 
Fédération Nationale des Transporteurs Routiers
http://www.fntr.fr/ 
Traffic/Road Conditions in France
https://www.bison-fute.gouv.fr/