ADR Hazard Diamonds & Classes
Hazardous Chemicals and Dangerous Goods are transported throughout the United Kingdom, by road and rail every day. These goods include dangerous chemicals such as:
Acids 
Toxins and carcinogenic substances 
Explosives 
Radioactive materials 
Inflammable liquids 
Volatile chemicals likely to spontaneously combust or react with air, water etc.  
Inflammable, poisonous or compressed gases 
Although the Health and Safety Executive is primarily responsible for enforcing the many regulations designed to ensure safety while these substances are in transit, it is the members of the emergency services who will have to deal with the consequences of any incident. 
Laid out below are the UN Hazard Classes and Danger Signs. To find out what each class number is and what each sign represents, please refer to the list at the foot of this page.  
DANGER LABELS
The following are danger labels that will be displayed on vehicles, containers and packaging during the transportation of dangerous goods. 
Class 1 – Explosive substances or articles 

Class 2 – Gases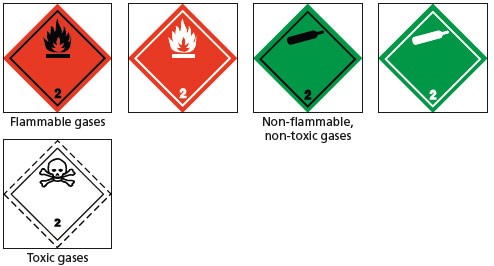 Class 3 – Flammable Liquids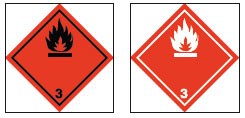 Class 4.1 – Flammable Solids, self-reactive substances and de-sensitised explosives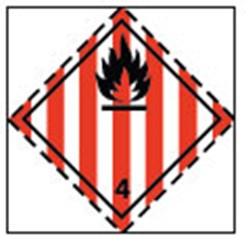 Class 4.2– Substances liable to spontaneous combustion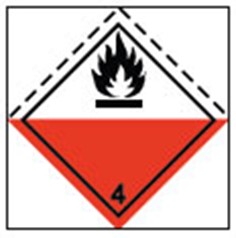 Class 4.3– Substances which, in contact with water, emit flammable gases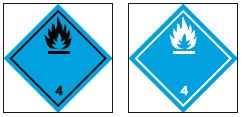 Class 5.1 – Oxidising Substances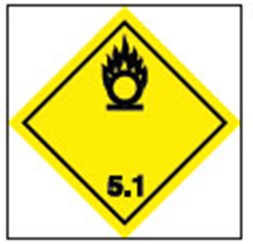 Class 5.2 – Organic Peroxides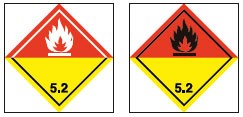 Class 6.1 – Toxic Substances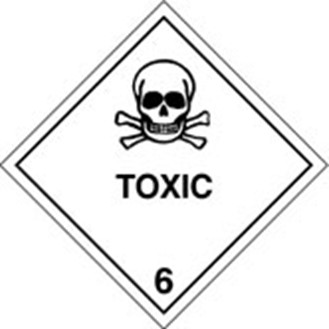 Class 6.2 – Infectious Substances 

Class 7 –Radioactive Material 

Class 8 –Corrosive Substances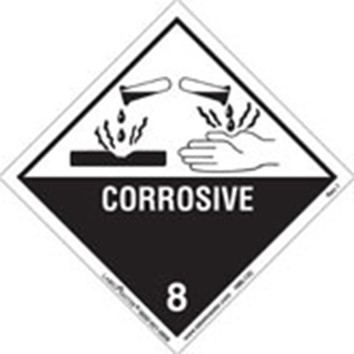 Class 9 –Miscellaneous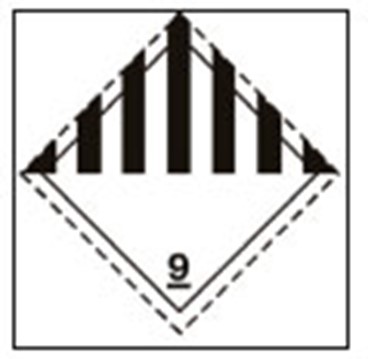 Under the requirements of the 2019 editions of the European Agreements Concerning the International Carriage of Dangerous Goods by Rail (RID) and by Road (ADR), all goods classified as dangerous in carriage whether or not assigned to another class may need to have the Environmentally Hazardous Substance (EHS) mark displayed on their packaging if they meet the EHS criteria contained in 2.2.9.1.10 of ADR and RID. 
The following are additional danger labels that are used
in the transportation of dangerous goods.  
Environmental Hazardous Substance mark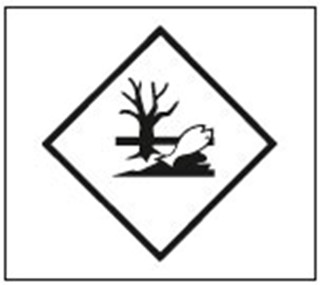 The following are marks that may appear on vehicles during the transportation of dangerous goods and would appear in addition to the danger labels at 1.2.1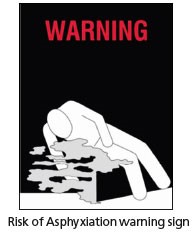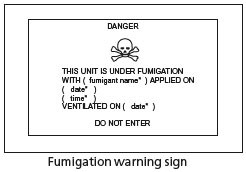 UNITED NATIONS (UN) HAZARD CLASSES & INFORMATION 
| | |
| --- | --- |
| Class Number  | Hazard Class Information  |
| Class 1  | Explosive  |
| 1.1  | Substances with a mass explosion hazard  |
| 1.2  | Substances which present a projection hazard but no mass explosion hazard  |
| 1.3  | Substances which present both a fire hazard and a minor blast or projection hazard (or both) but not a mass explosion hazard  |
| 1.4  | No significant hazard  |
| 1.5  | Very insensitive substances with a mass explosion hazard  |
| 1.6  | Very insensitive articles with no mass explosion hazard  |
| Class 2  | Gases  |
| 2.1  | Flammable gases  |
| 2.2  | Non-flammable, non-toxic gases  |
| 2.3  | Toxic gases  |
| Class 3  | Flammable liquids  |
| Class 4  | Flammable solids  |
| Class 4.1  | Flammable solids, self-reactive substances and solid desensitised explosives  |
| Class 4.2  | Materials liable to spontaneous combustion  |
| Class 4.3  | Substances which, in contact with water, release flammable gases  |
| Class 5  | Oxidizing substances and organic peroxides  |
| Class 5.1  | Oxidizing agents  |
| Class 5.2  | Organic peroxides  |
| Class 6  | Toxic and infectious substances  |
| Class 6.1  | Toxic substances  |
| Class 6.2  | Infectious substances  |
| Class 7  | Radioactive substances and articles  |
| Class 8  | Corrosive substances  |
| Class 9  | Miscellaneous dangerous substances and articles. Class 9 includes items such as asbestos, automotive airbags, lithium batteries and environmentally hazardous substances which don't fit into any of the other 8 classes.  |