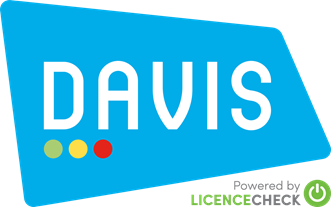 Driver And Vehicle Information Solutions
DAVIS is an Award-Winning platform that provides mix & match services, including Licence Checking, Grey Fleet Management, Driver Risk Assessment and full company fleet transparency with Fleet File. 
We provide 1000s of companies from a variety of industry sectors with a platform that automates their driver & vehicle compliance processes and gives greater insight into fleet risk than ever before. 
DAVIS is powered by Licence Check Ltd, the original licence checking service and founder of the ADLV (Association of Driving Licence Verification).
With DAVIS you will:
Gain all the tools you need to manage driving compliance 
Be free to automate and streamline essential processes
Easily access and act on all driver and vehicle info in one place, including driver risk 
Dive deeper into driving compliance with reporting, alerts, warnings, notifications and a clear audit trail
Minimise your own company risk when it comes to driving compliance.
With reassurance that DAVIS is:
The highest-rated licence checking provider based on customer reviews (rated 5 stars)
A mix and match platform, you'll only ever pay for the service(s) you need
Multi-Award Winning (See our awards page)
Committed to providing free, top-class support - available 5 days a week
A safe & secure environment to store your sensitive data
Analysing data provided by the DVLA
The DAVIS platform will increase efficiency – saving you both time and money.
As they move towards digital data management solutions picks up speed, the role of the spreadsheet as a database for storing driver and vehicle information will soon be a thing of the past.
Designed with the user in mind, DAVIS automatically schedules rechecks and reminders to ensure that an expiry, an upload nor a deadline is ever missed, helping to give your organisation peace of mind that your driver and vehicle compliance is taken care of.