Driving Licence Checking Software
31 March 2021 by Richard Brown
Most fleet, transport managers and transport officers have been visually checking driving licences for years, but do they really know or understand what a licence really contains and what all the data means?
It is almost impossible to find a driving licence training course that is specifically focused on this very important subject - if you get it wrong you it can be fatal or life-changing if your employees are caught up in road traffic accident, and the management team will also be included in any investigation by the Police and or Health & Safety Executive, notwithstanding the reputational damage to your business if found liable under varies laws.
One of the obvious questions asked would be 'did you, the company or the appointed officer' check the validity of your employees driving licence?
There are many ways that you can check a driving licence. The law does not state that you should check a licence, but what it does say is - it is an offence to allow a person to drive a vehicle for which they do not have a licence or entitlement to do so. So you are best to check using DVLA data independent of the driver, albeit, permission will be required from the licence holder before a check is possible.  
Use a third-party specialist provider with access to the DVLA records online such as RoadRiskManager.com with results in seconds after permission has been given by the licence holder. This is a fee-paying service but very quick and simple.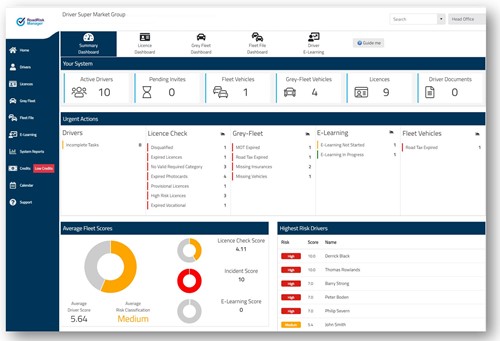 Use the DVLA share driver licence service. This means asking the driver to provide an access code they obtain from the DVLA  The company then enter this code on the .Gov website for limited access to the driver record in time and data. This method is more complicated and more time consuming which may create delays in obtaining a result, but free at the point of use.
Keep your policies and procedure up to date
Most companies have some kind of company policies and procedures with regards to how employees should conduct themselves at work, some have a fleet and driver policy. These are often left for years before they are reviewed or updated, if ever.  
In the event, a company has to defend themselves in court they will be asked some very simple questions.
Do you have a company health and safety policy and procedures that cover driving at work?
Do you and your employees follow these policies and procedures?
When were they last updated?
Do the policies cover the exposed risk?
Do you train your staff in these policies and procedures?
And....did you follow the policies and procedures prior to the incident?
Could you have prevented the incident from happening?
Clearly, what seems simple and preventative measures to protect you, your company and your employees, however, it needs a professional effort and improvement to reduce all risk whilst driving at work.