International Road Transport Operations in The Netherlands
Operational Activities
Cabotage
UK operators may carry loads to, from or through the country. Loads carried between other EU member states is permissable where a community authorisation is carried. However, other countries may only allow this under a bi-lateral agreement. Cabotage is permitted.
Dangerous Goods
The Netherlands is party to ADR. It is essential that fully completed ADR documentation is prepared for the movement of dangerous goods. There are restrictions on the movement of certain types of Dangerous under certain weather conditions most notably when roads are wet and/or if visibility is restricted.
Abnormal Loads
Vehicles that exceed the maximum weight and dimensions below will require special authorisation, which can be obtained from RDW Centrum Voor Voertuigtechniek en Informatie, Europaweg 205, 2711 ER Zoetermeer, Netherlands. Tel: +31 (0)79 3458100.
There are driving restrictions imposed upon abormal load vehicles where they cannot be moved as follows:
Weekdays from 06:00 to 10:00 and 15:00 to 19:00
09:00 Saturday to midnight Sunday
on slippery roads (ice/snow) and if visibility is restricted to less than 200 metres
Taxation
A full tank of fuel can be imported duty free.
Customs
TIR Carnets are accepted for vehicles crossing The Netherlands. ATA Carnets are accepted for certain temporary imports. CMR notes are advised.
Movement Restrictions
There are no driving restrictions at weekends or on public holidays.
Overtaking Bans
There are overtaking bans on many national routes for vehicles 7.5 tonnes and over.
Road Tolls

The Netherlands is one of 5 countries that operate the Eurovignette toll system, the other countries include Denmark, Belgium, Luxembourg and Sweden. Heavy goods vehicles and vehicle combinations with a maximum admissible weight from 12 tonnes must have a valid Eurovignette when driving in the countries named above. The Eurovignette is calculated by the the vehicles Euro Engine value and the number of axles on the vehicle.
Bridge and Tunnel Tolls
There are currently 2 toll tunnels we're aware of in Holland, these are the Westerschelde Tunnel, which connects the towns and cities of Eastern Holland to the cities Antwerp, Ghent and Lille in Belgium. The Tunnel is situated in the south of the country on the N62 between Goes and Terneuzen.
On the same side of the country just of the A16 at Dordrecht, there is the Tunnel Dordtse Kil. It connects the towns of Dordrecht and S-Gravendeel on the Hoekse Waarde and is on the A16 (E39) being accessible via the S-Gravendeel exit.
It should be noted here that another project is underway to improve accessibility to this region, this project concerns the SluisKil Tunnel To find out more, please visit the Sluiskil Tunnel
Dordtse Kil Tunnel (N3 and N217) Connects the towns of Dordrecht and S-Gravendeel - Dordtse Kil Tunnel
Westerschelde Tunnel (N62) Connects the towns of Terneuzen and Goes - Westerschelde Tunnel
Vehicle Requirements
Documentation
Green Card required, plus original vehicle registration docs. A GB plate must be fitted to rear of vehicle/trailer.
Low Emission Zones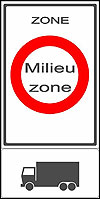 There are currently 11 cities in the Netherlands that have introduced environmental zones in their city centres. These cities are Amsterdam, Utrecht, Rotterdam, Den Haag, Eindhoven, Breda, Den Bosch, Tilburg, Delft, Leiden and Maastricht.
Only clean lorries may enter environmental zones. To be clean, diesel lorries weighing over 3,500 kg must comply with the Euro 3 emission standard or higher. Lorries with Euro 0 or Euro 1 and Euro 2 engines may not enter environmental zones. Lorries with diesel engines that comply with the Euro 3 standard must be fitted with a particle filter and may not be older than 8 years. Lorries with Euro 4 or Euro 5 engines may enter environmental zones without having to be modified. The penalty for non-compliance with the admission criteria is €160.
Environmental zones will help improve air quality in urban areas where the EU-standards for fine particles (PM10) and nitrogen dioxide (NO2) are being exceeded.
Environmental zones are marked by a sign which bears the word 'Milieuzone' ('environmental zone').
The Netherlands did not introduce special stickers to show the emission levels of engines (like the German 'Umweltplakette'). Instead, enforcement is based on the vehicle licence number, which is linked to the environmental class and vehicle age.
Maximum Weights & Dimensions
Height
4 metres
Width
2.55 metres (Fridges 2.6 metres)
Length
Artic 16.5 metres
Road Train 18.75 metres
Weight
Artic 50 tonnes**
Road Train 50 tonnes**
There are also various maximum permitted weights on vehicles, trailers and road trains which are applicable according to the number of axles.
** This is allowable for vehicles that have 5 or 6 axles only.
Safety Equipment
It is compulsory to carry the following items of equipment and/or observe specific rules:-
First Aid Kit (advisable)
Warning Triangle to be placed 30 metres behind the vehicle in the event of a breakdown
Spare Bulbs (advisable)
Seat Belts are compulsory
Snow chains should be carried. If the border entry point states that 'Mandatory Use of Snow Chains', if no chains carried, vehicle will be denied entry into Hungary.
Driver Requirements
Legal Documents
Full passport required but no visa required. UK Licence is accepted. Letter from employer giving driver permission to drive vehicle - Attestation letter and form.
Speed Limits
| Vehicles Concerned | Built-Up Areas (kms) | All Purpose Roads (kms) | Expressways / Dual Carraigeways (kms) | Motorways |
| --- | --- | --- | --- | --- |
| All commercial vehicles over 3.5 tonnes | 50 | 80 | 80 | 80 |
Country Contact Info
British Embassy
Lange Voorhout 10, 2514 ED The Hague, Netherlands. Tel: +31 (0)70 4270 427 Website: www.ukinnl.fco.gov.uk
Transport Organisation
Transport en Logistiek Nederland, Postbus 3008, 2700 KS Zoetermeer, Netherlands. Tel: +31 (0)79 3636111 Website: www.tln.nl
Copyright © 2007 - | Transports Friend