International Road Transport Operations in Italy
Operational Activities
Cabotage
UK operators may carry loads to, from or through the country. Loads cannot be carried between third countries unless the third country is another EU member state. Cabotage is permitted, but all cabotage activities must be recorded in a Log Book which can be obtained from the Ministero delle Infrastrutture et Trasporti.
Dangerous Goods
Italy is party to ADR. It is essential that fully completed ADR documentation is prepared for the movement of dangerous goods. Vehicles transporting Dangerous Goods of Class 1, regardless of the weight of the vehicle have a country-wide prohibition as per the movement restrictions noted below and also at weekends between 1 June and 18 September, from Friday 18:00 to Sunday 24:00.
Abnormal Loads
Vehicles moving indivisible loads that exceed the dimensions noted below will require special authorisation. Applications should be made a minimum 15 days in advance and we advise this should be undertaken at least 3 weeks prior to movement and to use a local agent as the procedure for anything of a legislative nature in Italy is bureaucratic, complex and time consuming.
Taxation
Fuel in vehicle tanks can be imported duty free.
Customs
TIR Carnets are accepted for vehicles crossing Italy. ATA Carnets are accepted for certain temporary imports. CMR notes are advised as customs officers require proof of validity of the arrangement between the parties involved in the movement of the load carried.
Movement Restrictions
There are driving restrictions throughout the Road network for goods vehicles of 7.5 tonnes and above. The following days and times on those days which are are applicable include;
Days and Times Affected
All Sundays during January - May and October - December between 08:00 and 22:00
All Sundays during June - September from 07:00 until midnight
Public Holidays
2013
2014

January 1 and 6
April 1 and 25
May 1
June 2
August 15
November 1
December 8, 25 and 26

January 1 and 6
April 21 and 25
May 1
June 2
August 15
November 1
December 8, 25 and 26

Remember there are also regional holidays in Italy, therefore please check the region you are travelling to
For vehicles coming from Sardinia or other countries, that can provide documentation as proof of the origin of their journey, the above driving ban start times are postponed by 4 hours.
For vehicles travelling to other countries, that can provide documentation as proof of the destination of their journey, the above driving ban finish times are brought forward by 2 hours. If travelling to Sardina, this is brought forward by 4 hours.
For vehicles destined for the "Interports"(truck yards) in Bologna, Padua, Verona, Turin, Orbassano, Rivalta Scrivia, Novara, Parma Fontevivo, Busto Arsizio, Milano Rogredo and Milano Smistamento and which are transporting goods for other countries (documented), the end times of the driving ban is brought forward by 4 hours. This also applies to air-freight vehicles travelling to an airport where the goods are destined for export.
Vehicle/load exemptions
The precondition for exemption to the above is a permit from the prefecture granted at least 10 days in advance. For foreign vehicles, the application for the permit can be made by the shipper or consignee at the prefecture of the border province at which entry into Italy is taking place.
With the necessary permit, the following vehicles/loads are exempt;
vehicles transporting fuel for distribution and consumption
vehicles transporting animals for authorised competitions which will take place within the next 48 hours or which took place within the previous 48 hours
vehicles transporting foodstuffs for the supply of aircraft, or those transporting engines and spare parts for aircraft
vehicles transporting foodstuffs for the supply of the merchant navy, and which are covered by the appropriate documentation
vehicles transporting only products for medical use
vehicles transporting only milk (with the exception of long conservation milk). These vehicles must be equipped with green panels 50cm wide and 40cm high, with a small letter 'd' printed in black and measuring 20cm in height, affixed in a visible manner on both sides and at the rear
vehicles transporting perishable foodstuffs under the ATP regime
vehicles transporting perishable goods such as fresh fruit and vegetables, fresh meat and fish, cut flowers, live animals destined for slaughter or arriving from abroad, as well as sub-products following the slaughter of animals, chickens for rearing, fresh dairy produce, fresh milk
Banned Vehicles
There are emissions requirements in place on the A22 motorway due to its close proximity to the A13/A12 motorways in Austria and consequently commercial vehicles of Euro 0 and Euro 1 are banned.
Low Emission Zones
There are many towns and cities in Italy which have LEZ's in place. For an overview of those cities affected, please visit www.lowemissionzones.eu

Road Tolls
In Italy the VIACARD or Telepass is used for payment of motorway tolls. The VIACARD is issued in a companies name, and therefore can be used by all vehicles belonging to the company and is valid for all vehicle types including passenger cars.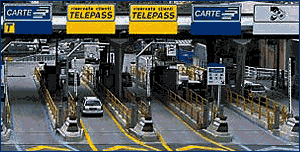 In addition to the VIACARD you can rent a TELEPASS unit, which is an electronic unit (OBU) that has to be installed in the windshield of the vehicle. With a TELEPASS the vehicle does not stop at the toll terminal, but continues through the terminal in a reserved TELEPASS lane where the toll is registered electronically.
Telepass units are rented from the motorway company, and when ordering, the vehicle registration numbers of the vehicles that are to use the units must be registered.
Other than VIACARD or TELEPASS, it is possible to use a credit card or Bancomat card to pay road tolls, the lane to be used is indicated by the blue sign marked Carte. It is also possible to pay in cash (Euros) via the lane marked with the white sign.
Bridges and Tunnel Tolls
There are a number of road tunnels and bridges/viaducts in Italy. Similarly to France, the most formidable barrier to negotiate are the Alps which are home of the 2 most famous tunnels being that of the Frejus and Mont Blanc Tunnels.
Frejus (A43) - Connects to A43 M/Way in France
Mont Blanc (A40) - Connects Aosta Valley (I) to Haute Savoie region (F)
Grand St Bernard (A36 (I) and A16 (CH) - E270 - connects Aosta (I) to Belfort (CH)
Commercial vehicles with engine category Euro 0 and Euro 1 are not permitted in the Frejus Tunnel.
Vehicle Requirements
Documentation
Green Card required, plus original vehicle registration docs. A GB plate must be fitted to rear of vehicle/trailer.
Maximum Weights & Dimensions
Height
4 metres
Width
2.55 metres (Fridges 2.6 metres)
Length
Artic 16.5 metres
Road Train 18.75 metres
Weight
Artic 44 tonnes
Road Train 44 tonnes
There are also various maximum permitted weights on vehicles, trailers and road trains which are applicable according to the number of axles.
Safety Equipment
It is compulsory to carry the following items of equipment and/or observe specific rules:-
First Aid Kit
Warning Triangle should be placed 50 metres behind vehicle in event of breakdown
Hi-Vis jackets must be worn if exiting the vehicle - all vehicle crew
Dipped Headlights are compulsory at all times in road tunnels and on motorways
Seat Belts must be worn
Snow chains must be used where conditions or signage dictates and must be readily available on the vehicle
Winter tyres are required to be fitted in the provinces of Bolzano, Novara and Verbano from mid November to the end of March; in Bologna from mid November to mid April. The authorities concerned will indicate the requirement on Road Signage.
Driver Requirements
Legal Documents
Full passport required. UK Driving Licence. Letter from employer giving driver permission to drive vehicle - Attestation letter and form. AETR Hours rules apply.
Speed Limits
| Vehicles Concerned | Built-Up Areas (kms) | All Purpose Roads (kms) | Expressways / Dual Carraigeways (kms) | Motorways |
| --- | --- | --- | --- | --- |
| Rigid Trucks 3.5 to 12 tonnes | 50 | 80 | 80 | 100 |
| Rigid Trucks over 12 tonnes | 50 | 70 | 70 | 80 |
| Artics & Road Trains | 50 | 70 | 70 | 80 |
| Dangerous Goods | 30 | 50 | 50 | 80 |
Country Contact Info
British Embassy
Via XX Settembre 80a, I-00187 Roma RM. Tel: +39 06 4220 0001 Website: www.ukinitaly.fco.gov.uk
Transport Organisation
Confederazione Generale Italiana dei Trasporti e della Logistica (Confetra), 00198 Roma - via Panama 62, Italy. Tel: +39 06 8559151 Website: www.confetra.com
Copyright © 2007 - | Transports Friend