International Road Transport Operations in Germany
Operational Activities
Cabotage
UK hauliers may carry goods to, through or from the country, goods can also be carried from Germany to a third country and vice versa if permitted by the terms of any agreement between the three countries. Cabotage is permitted.
Dangerous Goods
Germany is a party to ADR, however, there are restrictions on the movement of Dangerous Goods on bridges and in tunnels.
Tunnel Name
Road Number / Location
Tunnel Category
Wallring
Hamburg Altstadt
E
Alsterkrugchausee
Hamburg Knoten / Alsterkrugchausee / Sengelmannstrasse
E from 06:00 to 21:00
C at all other times
CCH Tunnel
Hamburg Vorfahrsbauwerk am Congress Centrum
E
Elbtunnel
A7 Hamburg
E from 05:00 to 23:00
C at all other times
Krohnstiegtunnel
Hamburg Niendord
E from 06:00 to 21:00
C at all other times
Heidkopftunnel
A38 Niedersachsen
E
Emstunnel
A31 Niedersachsen
B
Tunnel Bad Godesburg
B9 Bonn Nad Godesburh (Nordrhein Westfalen)
E
Alte Burg
A71 Thuringen
E
Rennsteig
A71 Thuringen
E
Hochwald
A71 Thuringen
E
Berg Bock
A71 Thuringen
E
Abnormal Loads
Special authorisations are required for all abnormal load movements which exceed German vehicle dimensions (including weight). Applications for authorisations must be made to the local transport authority 'Strassenverkehrsamt' closest to the point of entry into the country.
Customs
TIR carnets are permitted for loads crossing Germany. ATA carnets are accepted for certain temporary imports. CMR documents should be used.
Movement Restrictions
There are movement restrictions for all commercial vehicles of 7.5 tonnes and over and also for commercial vehicles of 3.5 tonnes that are pulling trailers on Sundays and Public Holidays from 00:00 to 22:00. These restrictions are applicable to the entire road network.
Public Holidays
2013
2014

January 1
March 29
April 1
May 1, 9 & 20
October 3
December 25 & 26

January 1
April 18, 20 & 21
May 1 & 29
June 8 & 9
October 3
December 25 & 26

Remember there are also regional holidays in Germany, therefore please check the region you are travelling to
Vehicle/load exemptions
The following exemptions are applicable;
Intermodal road/rail transports from the shipper to the nearest suitable loading rail station or from the nearest suitable unloading rail station to the consignee, but only up to a distance of 200km;
Transportation of fresh milk and fresh dairy products, fresh meat and fresh meat products, fresh fish, live fish and fresh fish products, perishable fruit and vegetables;
Saddle vehicles (independent of weight) that are exclusively used to pull other vehicles;
Saddle vehicles with a legal maximum weight of up to 7.5 tonne (these are classified as trucks without trailers);
Vehicles where the load is part of the vehicle`s inventory (e.g. exhibition and film set units)
Additional Driving Bans
The following information concerns additional driving bans and Holiday Regulations affecting commercial vehicles. These additional restrictions are on Saturdays during the periods from 1st July - 31st August between the hours of 07:00 to 20:00 are concern all Trucks with a legal maximum weight over 7.5 tonne plus trailer independent of weight.
Also affected are the German Federal highways outside of closed localities in both driving directions.
Night Driving Restrictions
On some routes in Germany there are also Night Time driving restrictions, which are indicated by roadsigns and generally include a ban on all vehicles 7.5 tonnes and over.
Low Emmission Zones
Since March 2007, many german cities have introduced LEZ's. There are 4 emmission categories, which are determined by the year of registration of the vehicle or the vehicles Euro engine specification as follows:
| Category | Euro Engine Specification |
| --- | --- |
| Category 1 | Euro 0 or Euro 1 - No Sticker |
| Category 2 | Euro 1 or Euro 2 With Particle Filter - Red Sticker |
| Category 3 | Euro 2 or Euro 3 With Particle Filter - Yellow Sticker |
| Category 4 | Euro 3 or Euro 4 With Particle Filter - Green Sticker |
Emmission stickers must be displayed at all times and are available for purchase (€5 - €10) from Vehicle Test Stations or authorised garages. Stickers are valid for an unlimited period.
Cities with LEZ
Euro Engine Requirement
Introduced from
Berlin
Euro 4 only
January 2010
Hannover
Euro 4 only
January 2010
Cologne (Köln)
Euro 3 and 4
January 2010
Stuttgart
Currently 2, 3 and 4
From January 2012 only Euro 3 and 4 permitted
Tübingen
Currently 2, 3 and 4
From January 2012 only Euro 3 and 4 permitted
There are many other towns and cities affected by LEZ's including, Ilsfeld, Leonberg, Ludwigsberg, Mannheim, Reutlingen, Frankfurt/Main and Münich. For an EU wide map showing LEZ's go to www.lowemissionzones.eu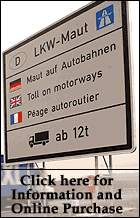 Road Tolls
Germany's LKW-MAUT (Lorry Toll) is a government tax for trucks based on the distance driven in kilometres, number of axles and the emission category of the vehicle. The MAUT system is a GPS-based toll system, there are no toll booths or plazas on the highways instead this system works via the following methods;
On Board Units (OBU);
Manual payment terminals; or
Via the internet.
Manual payment is available for those vehicles not equipped with an OBU, of which there are over 3,500 toll payment terminals at motorway service stations, border locations or rest areas where drivers can enter the details of their journey and pay the toll in advance by cash (Euros only), or by using a credit or fuel card.
OBU's work via GPS and the on-board odometer or tachograph as a back-up to determine how far trucks have travelled by reference to a digital map and GSM to authorise the payment of the toll via a wireless link.
Key Information
If for any reason a driver is required to divert off the given route, then he/she must stop and re-book the new route.
In addition to 300 toll checker gantries strategically located throughout the country, Toll Enforcement also relies on mobile patrols, consisting of a fleet of 300 vehicles with 540 officers of the Federal Office of Freight (BAG). The officers patrol the autobahns, checking vehicles and drivers to ensure they have paid the toll or have the OBU installed. BAG vehicles are equipped with an infrared short range DSRC (Dedicated Short Range Communications) system that can be used to scan and monitor trucks in motion. The BAG have police powers to request trucks to stop for examination at any point during their journey.
The autobahn system gantries are also equipped with IR detection equipment and high resolution cameras, which are able to pick out trucks via profiling (and record number plates). These units send a DSRC signal to a corresponding transponder (which is part of the OBU) in the lorry to check on the accuracy of the GPS as a back-up and also alert BAG officers to any toll violations. The OBU is also able to work with the new Galileo satellite system for positioning which is being developed in Europe as a more accurate alternative to GPS.
Bridge and Tunnel Tolls
We are aware of only 2 toll tunnels within Germany, both of which are located in the north of the country with the Herren Tunnel in the district of Schleswig-Holstein and the Warnow in the district of Mecklenburg-Vorpommern.
Herren Tunnel (B75) - connects Lûbeck and Travemûnde - www.herrentunnel.de

Vehicles carrying Dangerous Goods are not permitted in the Herren Tunnel

Warnow Tunnel (B105) - connects East/West banks of Warnow river in Rostock - www.warnowquerung.com
Vehicle Requirements
Documentation
Green Card required, plus original vehicle registration docs. A GB plate must be fitted to rear of vehicle/trailer.
It should be noted that in many EU Countries a Trailer Registration Certificate is a requirement. In all cases, this is a National Requirement, not an EU one. Certificates can be obtained from Vosa Technical Services - 01792 458888.
Road Safety
The following items of equipment or national requirements apply to all commercial vehicle in Germany.
Warning Triangles are compulsory and in the event of a breakdown, must be placed 100 metres behind the vehicle on ordinary roads and 250 metres on motorways
Spare bulbs must be carried
Two independent flashing amber lamps must be carried on vehicles exceeding 2.5 tonnes. In the event of a breakdown, they must be placed behind and in front of the vehicle
First Aid Kits are compulsory
Snow Chains and 'M+S' tyres must be fitted on drive axles on snow covered roads in compliance with road sign direction. When snow chains are fitted, the speed limit is reduced to 50kms
A spade, pick and tow rope should be carried in the winter months
Tyre tread depth is 1.6 millimetres
Load Safety
The German enforcement authority (BAG) will check loads on commercial vehicles for load security. Where vehicles are deemed to have insufficient load restraint, vehicles will be prevented from further movement until the load is secured according to the enforcement officers satisfaction.
With more and more EU member states implementing Load Safety Best Practice and penalising operators/drivers for failure to implement. We advise operators to read the EU Load Safety Guidelines, which can be downloaded from the EU commissions website here European Guidelines on Cargo Security/Load Safety. You can also refer to the Load Security page within the Construction & Use/Loads section of this website.
Maximum Weights & Dimensions
Height
4 Metres
Width
2.55 metres (Fridges 2.6 metres)
Length
Artic 16.5 metres
Road Train 18.75 metres
Car Transporter 20.75 metres
Weight
Artic 40 tonnes
Combined Transports up to 44 tonnes
There are also various maximum permitted weights on vehicles, trailers and road trains which are applicable according to the number of axles.
Driver Requirements
Legal Documents
Full passport required but no visa required. Full UK driving Licence. Letter from employer giving driver permission to drive vehicle - Attestation letter and form.
Log Books
Drivers of commercial vehicles between 2.8 and 3.5 tonnes must observe the EU Hours rules. For those vehicles not fitted with a Tachograph, Log Books must be used at all times.
Speed Limits
| Vehicles Concerned | Built-Up Areas (kms) | Outside Built-Up Areas (kms) | Motorways (kms) |
| --- | --- | --- | --- |
| All Trucks 3.5 tonnes to 7.5 tonnes | 50 | 80 | 80 |
| Trucks over 7.5 tonnes | 50 | 60 | 80 |
| Combined Transports over 3.5 tonnes | 50 | 60 | 80 |
Country Contact Info
British Embassy
Wilhelmstrasse 70, D-10117 Berlin. Tel: +49 30 204570 Website: www.ukingermany.fco.gov.uk
Transport Organisation
Bundesverband Güterkraftverkehr Logistik und Entsorgung (BGL) e.V. Breitenbachstraße 1, 60487 Frankfurt am Main
Tel: +49 (069) 79 19-0 Website: www.bgl-ev.de
Copyright © 2007 - | Transports Friend